Heffalump
Part of what drew me back to crochet was seeing books of amigurumi, the adorable little
Japanese knit or crocheted animals
. I started an elephant for my toddler about five days ago. These are actually easy beginner projects, since they are almost entirely done in single crochet. They can be a bit persnickety, with lots of counting to get the shape right, and some needlework to sew on details like eyes and toenails and the like. You'll probably need some felt for the whites of the eyes, along with some stuffing and embroidery floss. But once you have that, off you go! I started this about five days ago, working for 30-60 minutes a day, so making one of these is about a five hour project, I think? Less if you're fast and focused, I imagine.
When I started with the elephant's head, I kept thinking it was going to look terrible until I actually finished the head, and then, surprisingly, it looked mostly like the photo in the book. Weird! :-) I like the yarn I used for the elephant, although it looked a little odder with the white felt eyes than the grey and pink they chose for the book. But a) I had the yarn already, b) I thought it was cute, and c) I was reserving final judgement until the thing was done. I also embroidered the eyes, because that's less of a choking hazard than using beads. The trunk seemed a bit thick to me too, and it didn't go up as sharply as I expected it too -- I wonder whether I did the half-double-crochet correctly there. Oh well.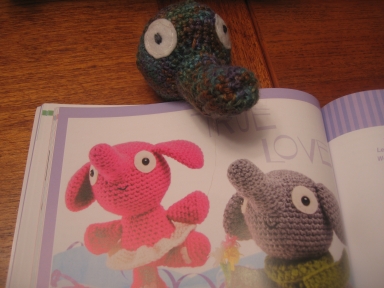 When I added the body to my little critter, I started worrying that it didn't look much like an elephant. I think I positioned the ears too low?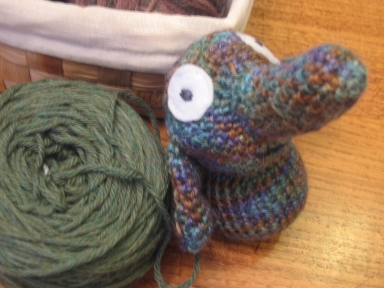 When I got further along, I was convinced -- this little guy didn't actually look much like an elephant at all.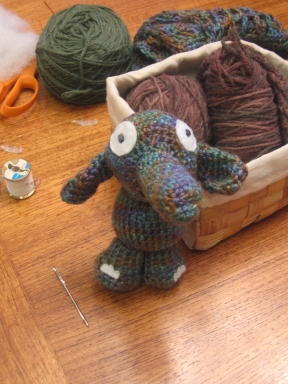 I hoped that once I added the feet (with their little toenails) that it'd all magically come together and shout ELEPHANT, but that just didn't happen. Maybe it would look more like an elephant if I'd done it in grey. Kavi isn't as into elephants (or lions, or dragons) as I am anyway -- right now, her favorite animal is either monkey (she says, 'ook ook') or owl (she can actually say 'owl' very enthusiastically when we point to the owl photo). So perhaps this little critter will wander off to another child's home, and I'll take another stab at one for Kavi with a monkey or owl. We'll see. :-)

In the end, I decided it was a heffalump, a fictional, elephant-like creature mentioned in the Winnie the Pooh stories by A. A. Milne). I'm afraid Kavi is still completely uninterested in the heffalump. Oh well. "How sharper than a serpent's tooth it is to have a thankless child," as Shakespeare said. I suppose I should get used to making her animals and sweaters that she fails to appreciate, right? In the meantime, at least I can enjoy the critter -- I think my heffalump is pretty darn cute. And I love this yarn for him, so there.
Almost completed heffalump; just needing arm and tail.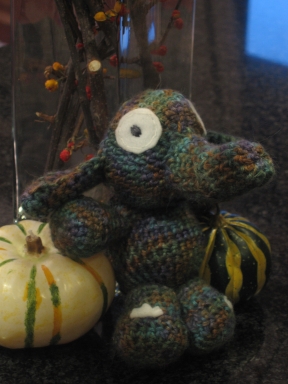 Completed, with jaunty scarf. He definitely has some attitude, I think. :-)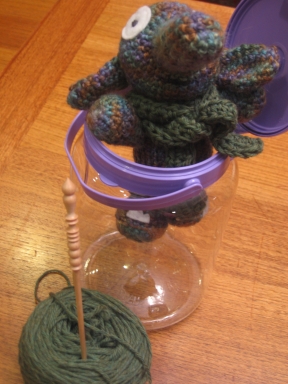 Now he just needs a name. Suggestions? He's definitely male, I think. And in honor of Milne, he must be British too...