First Sock!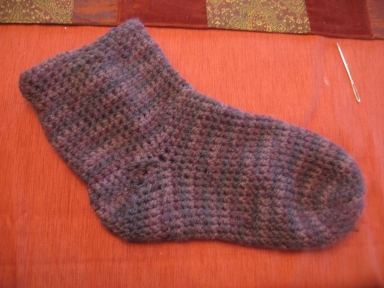 Yesterday, I finished one of the socks I'm making Kevin, using this
free toe-up crochet pattern
, super-simple to make (it's all single crochet). I did it in
Lion's Brand Wool-Ease
, a wool-acrylic blend in 'woods print', pleasant to work with, machine-washable, and cheap! (on sale $2/2.5 oz.) Some reviewers note pilling problems over repeated washings, but I'm not going to worry about that for socks. For now, I'm liking this yarn a lot, and will probably be buying more of it.
The sock ended up a little big, but I'm expecting the wool to shrink when washed. I'm not sure how to account for that, actually. Do I trust that Kev will always wash them in cold and dry flat, so they don't shrink at all? That seems a lot to ask of a man and his socks. If I just throw it in with the other laundry, will it keep shrinking every time it's washed? I had a cashmere sweater that did that (accidentally got into the laundry a few times instead of being dry-cleaned), and it was very sad. How do other sock-makers deal with this?
The sock is pretty darn comfy; the wool blend feels very nice on the toesies. I could just buy him wool socks, of course, which would be way more efficient and even cheaper. I'm not sure how long my sock enthusiasm will last. Right now, I'm just charmed by the very idea of crocheting a sock for Kevin. It's so insanely domestic. Old friends Tasos and Alex were around when I was working on it yesterday, and Tasos commented that once the socks were done, Kevin would have to wear them constantly or I would get upset. I think that might be true, because I am ridiculously proud of my not-so-little sock. Maybe once I make more socks, I'll get over it. For now, I'll enjoy feeling like an old-time gal, making socks for her man (and eventually complaining about how he goes through the heels so fast. :-)