Warning: This post has nothing to do with knitting
It was 70 degrees and sunny here yesterday. Instead of cleaning all the plaster dust off every surface in my house (we had four rooms painted last week), I sat outside on my brick patio and basked in the balmy weather. Which reminded me of sandals.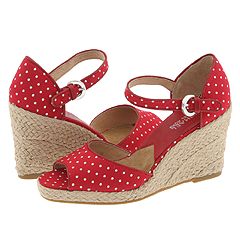 I saw this pair of red sandals in a catalogue that I just fell in love with and now I want to go shoe shopping. Not yarn shopping (because, to borrow Barbara's complaint, I've lost my knitting mojo), not bathing suit shopping (I desperately need to do this but you know how much fun it is), shoe shopping! Yes, I know this plays into the worst stereotypes of women's bad habits but I've decided that there are good reasons we like shoe shopping above all else:
1) You don't have to take off your clothes to try on shoes.
2) Your shoe size doesn't fluctuate with your weight (except after pregnancy when my feet went up a whole size!).
3) A great pair of shoes can jazz up the oldest, dullest outfit in your closet.
4) You don't have to buy anything else to go with the shoes. Well, maybe a bag but it's not a requirement.
5) Shoes don't require hemming.
So what do you shop for when you're feeling good? How about when you're feeling bad? Is it different?